Septic Pumping
Whiteford Septic Service
Commercial & Residential Septic Pumping in Harford and Baltimore Counties, Maryland
A properly maintained septic tank is crucial to its longevity. "If it's not broken don't fix it" does not apply to your septic system. Just as your car needs routine maintenance to keep it in good working order, your septic system needs routine pumping.
Pumping of the tank on an average of every two years assures optimal functioning and longevity of the system. More frequent pumping is recommended in some circumstances. We advise against the flushing of baby wipes or feminine hygiene products, excessive use of bleach, or garbage disposal use. However knowing it is sometimes difficult without these modern conveniences, in these cases we recommend annual pumping.
Our service includes backflushing the tank as needed to break-up solids; a visual inspection done so that we may alert you to any potential problem; and to help you keep on track with your service, a reminder postcard is mailed out when service is coming due.
We are a full-service provider able to handle whatever may come up with your septic system, from repairs to upgrades to new system installation.
Please think of us also when in need of a septic certification.
Call us at 410-557-8100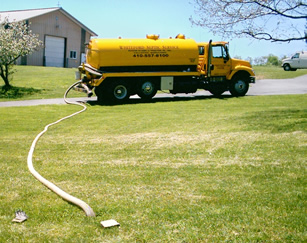 Commercial & Residential Septic Pumping Services
---
Additional Information
For general information on septic system design and maintenance click here for the link to
Baltimore County Health Department
and see their booklet,
Septic Systems: A Guide to Maintenance.